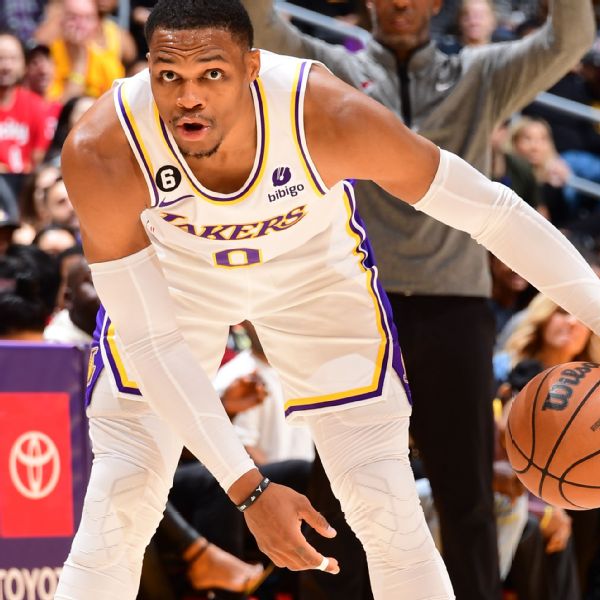 Russell Westbrook is listed as doubtful for the Los Angeles Lakers' road game against the Denver Nuggets on Wednesday because of left hamstring soreness, the team announced.
Westbrook was limited to five minutes in the Lakers' preseason finale because of the hamstring issue and later said that coach Darvin Ham's decision to bring him off the bench in that game could have contributed to the injury.
Ham was asked if he planned to keep the same starting lineup against the Nuggets, before the Lakers disclosed Westbrook's status, and gave an ambiguous answer.
"Not today," Ham said.
Westbrook is averaging 10.7 points on 28.9% shooting (8.3% from 3), 6.7 rebounds, 4.3 assists and 2.0 steals per game through the Lakers' 0-3 start to the season.
The Lakers did not make Westbrook available to speak to reporters on Tuesday.
Westbrook was roundly criticized for taking a midrange jump shot late in Sunday's home loss to the Portland Trail Blazers with 18 seconds left on the shot clock when the Lakers led by one point, rather than attacking the rim or working the ball around to an open teammate.
His teammate, Anthony Davis, said that the Lakers are supporting the former league MVP amid scrutiny from fans and observers of the team.
"I mean, it's crazy," Davis said. "People are forgetting who Russ is. … I can't imagine how tough it is for him. It's something you guys have to ask him. But just as a team, as an organization, we're just trying to be there for him and just keep supporting him and make sure that he doesn't get caught up in it. 'Cause that's when things can go bad for him. We want to make sure that he's continuously in a great space.
"He was all smiles today, which is a good thing. We want to make sure that no matter what, he knows we're on his side and we have his back. And whatever he needs from us, we're right here, on and off the court."


Source link

Lakers guard Russell Westbrook doubtful for Wednesday

For watching live sports, visit boomtv.info.
BoomTV offers exceptional live TV service with the highest iptv standards.
Never miss a live sports event, catchup on all your tv shows and get access to all the latest movies out there.
WATCH 2000+ HD CHANNELS AND ON-DEMAND MOVIES/TV SHOWS ON YOUR FAVORITE DEVICES