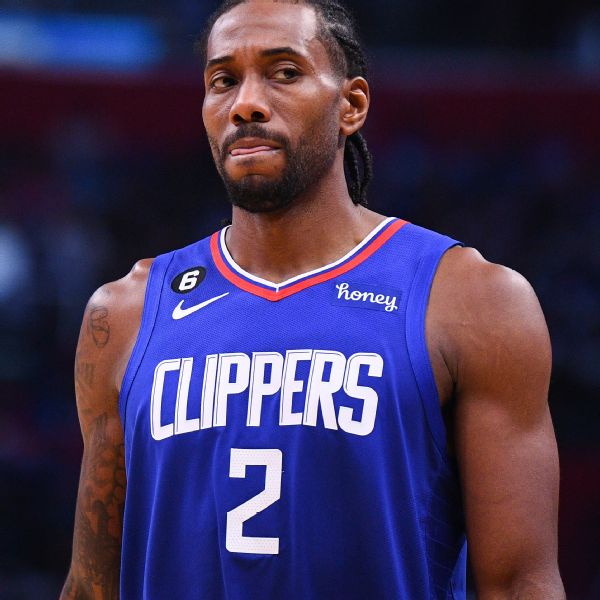 OKLAHOMA CITY — Kawhi Leonard experienced stiffness in his surgically repaired right knee and will miss the LA Clippers' two games against Oklahoma City this week.
Leonard was ruled out for Tuesday night's game against the Thunder and will miss Thursday's second game in Oklahoma City. Clippers coach Ty Lue said Leonard has not suffered a setback with his right ACL and that the team is remaining extremely cautious with its franchise star.
Leonard will fly back to Los Angeles on Wednesday to receive treatment on his knee. The Clippers will see how Leonard is feeling before determining his status for Sunday's game against New Orleans.
"After shootaround, [he] experienced some stiffness in his knee," Lue said before the Clippers played the Thunder. "And so we want to be cautious, make sure we're doing the right thing by him, even though he wanted to play. We just thought it wasn't smart. He can be mad at us if he wants to but just not smart right now."
The Clippers were shorthanded on Tuesday. Paul George (non-COVID-19 illness) and Marcus Morris Sr. (personal reasons) were not with the team.
Leonard, who tore his right ACL in Game 4 of the second round against Utah on June 14, 2021, played in two of the Clippers' first three games entering Tuesday, logging 21 minutes each game. He came off the bench and played in three stints to be able to finish each game. When the Clippers played a back-to-back last weekend, Leonard sat out the first game in Sacramento.
The Clippers' two-time NBA Finals MVP said it would be a process before he is back to form and that he likely would not be back in the starting lineup until his minutes reached around 34-35 minutes per game.
Still, Leonard had felt good until experiencing stiffness in his knee after Tuesday morning's shootaround. Lue said Leonard isn't scheduled to undergo any medical tests or examination in Los Angeles.
"Sending him back to L.A. because he has better resources for his rehab there," Lue said. "And see what happens after that."
"I mean that's part of the process when you have ACL surgery," Lue added of the stiffness. "It's known to happen to get a little stiffness, so we just got to be smart about it."


Source link

Clippers will be without Kawhi Leonard (knee) for two games

For watching live sports, visit boomtv.info.
BoomTV offers exceptional live TV service with the highest iptv standards.
Never miss a live sports event, catchup on all your tv shows and get access to all the latest movies out there.
WATCH 2000+ HD CHANNELS AND ON-DEMAND MOVIES/TV SHOWS ON YOUR FAVORITE DEVICES