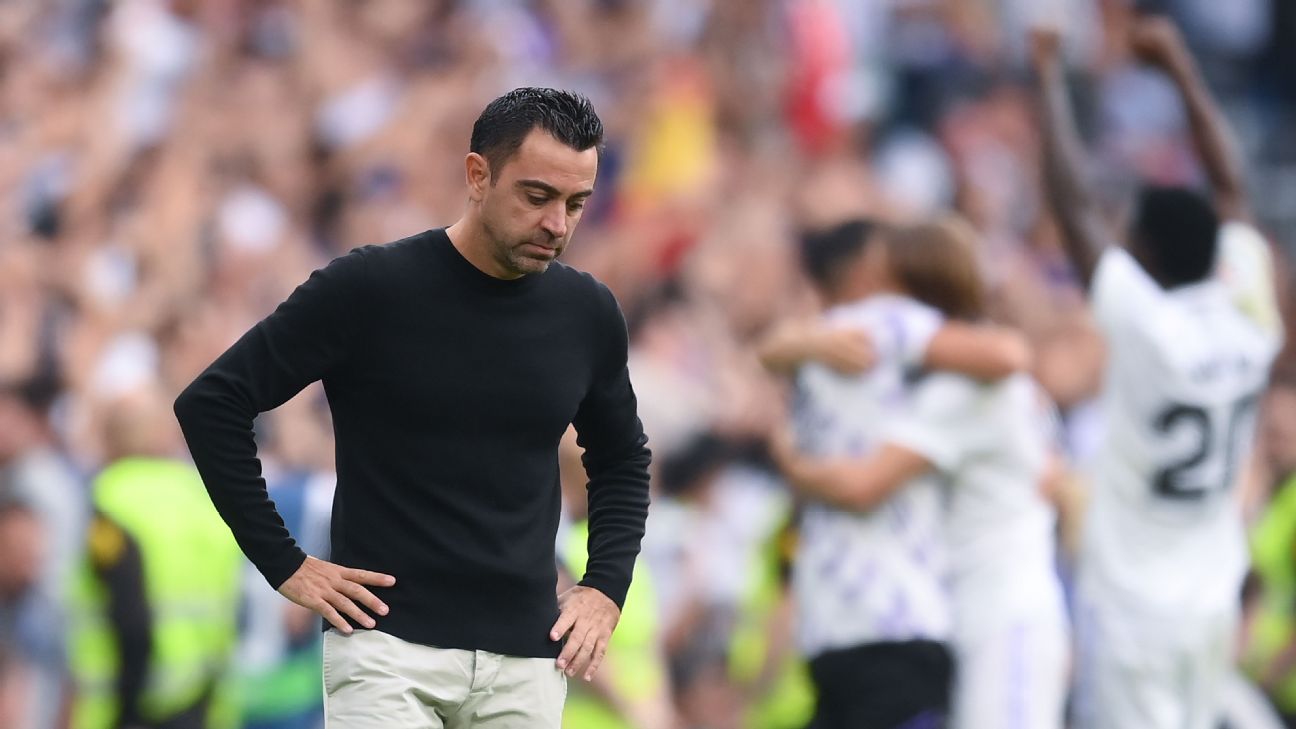 Barcelona have been knocked out of the Champions League in the group stage for the second season running after Inter Milan beat Viktoria Plzen 4-0 on Wednesday.
Barca, who were already destined to play in the Europa League after Inter's win, came out on the wrong end of a very one-sided 3-0 loss to Bayern Munich at the Camp Nou later in the day.
– Marsden: Are there silver linings to Barca's UCL exit?
– Every teams' path to the Champions League knockouts
– Stream on ESPN+: LaLiga, Bundesliga, MLS, more (U.S.)
Xavi Hernandez's side opened Group C with a 5-1 win against Plzen, but defeats away to Bayern and Inter and a draw at home to the Serie A side set up their ultimate relegation to European football's second-tier competition.
"We were not at Bayern's level today," Xavi said after the loss to Bayern. "They were better. In Munich we were ourselves, but today they were better, intense. The elimination before the game affected us psychologically. Now we train again tomorrow and think about LaLiga.
"There were a lot of expectations, but we got a tough group. All sorts has happened to us in the group stage. It's been cruel on us, but we did not compete well today.
"I have said that we have to be united, tackle the situation head on. We have been knocked out of the Champions League but the season does not end in October. There are other competitions."
It is the second season running that Barca, who have won the European Cup five times, most recently in 2015, have failed to make the last-16 of the Champions League following 17 successive years between 2004-05 and 2020-21 in which they reached the latter stages of the competition.
After spending over €150 million on signings in the summer, including €45m to sign former Bayern striker Robert Lewandowski, Barca's budget for the season factored in them reaching the quarterfinals of the Champions League.
– Sources: Barca look to replace Busquets in January
"Thanks to the supporters for their unconditional support," Xavi added. "They have shown it since I arrived and the atmosphere was extraordinary again tonight. Bayern were better, we can't have any complaints. It is the reality for us now. We have to disconnect from the Champions League and focus on the other competitions. It is a blow, but I have already said that maybe we need these setbacks to grow from.
"A little bit has everything has happened to us in the competition, all possible situations. The main thing has been our own mistakes, we have not been at the level we are capable of and made errors."
The failure to get out the group stages could cost them up to €20m in prize money, although how much they miss out on will depend on how they fare in the Europa League.
For example, in the most recent UEFA report from the 2020-21 campaign, Barca received €84.88m after exiting the Champions League in the round of 16 to Paris Saint-Germain.
Manchester United, in the same season, were paid €79.56m after reaching the Europa League final, where they lost to Villarreal, following a group stage exit from the Champions League.
Sources at Barcelona have told ESPN that the scale of the financial hit will also depend on other factors. While players will now be due less money in bonuses, there are also possible knock-on effects in terms of sponsorship and matchday income from an early Champions League elimination.
Barca will now have to focus their endeavours elsewhere. They will enter the Europa League in 2023 and have the Spanish Supercopa and the Copa del Rey to come. In LaLiga, they are in second place, three points behind Real Madrid having lost just one of their opening 11 games.
Pedri agreed with his manager that the knowledge there was no way to catch Inter in the group and reach the round of 16 had a negative effect on the team, but added there was plenty of blame to go around with how the team performed nonetheless.
"You don't go into the game with the same motivation [after the Inter win]," Pedri said. "We wanted to give the fans a win, but it was not to be. We owe these supporters a lot. They have always been with us. We owe them wins and trophies. I hope we can give them to them from now.
"We are a young team with a lot of room to improve. We have to improve a lot. We are not yet there to compete in the Champions League. It is really disappointing what's happened today. Seeing what we've seen, it's clear we are not yet ready to compete [at the top level]. A lot is lacking. We need to be calmer on the ball, pick the right option… there is a lot to improve.
"I think this is a failure. We are very young. there are a lot of new signings and we are getting to know each other. We need time but yes, it is a failure because you always have to get out of the group."


Source link

Barcelona out of Champions League group for 2nd year in row

For watching live sports, visit boomtv.info.
BoomTV offers exceptional live TV service with the highest iptv standards.
Never miss a live sports event, catchup on all your tv shows and get access to all the latest movies out there.
WATCH 2000+ HD CHANNELS AND ON-DEMAND MOVIES/TV SHOWS ON YOUR FAVORITE DEVICES